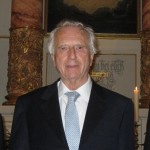 The well-known German organist and conductor, Hans Gebhard, has been working together with many of the past's and today's most popular names in classical music, including legendary tenor Fritz Wunderlich and conductor Klaus Tennstedt.
Hans Gebhard was the Director of Music at the St. Nikolai Church in Kiel, Germany from 1959 to 1989, and has been Professor of Organ and Choirs at the College of Music in Lübeck, Germany since 1977. Throughout his career, he has been given concerts as a conductor of orchestras and choirs as well as an organist at famous venues across Europe and Northern America.
In addition to his concert career, Hans Gebhard is a sought-after teacher of master-classes at music festivals and universities. Locations of his USA classes included Brigham Young University and the San Anselmo Organ Festival. Hans Gebhard is also a well-established author and editor of music reference and theory books.
Hans Gebhard recorded only one work of J.S. Bach : the Markus-Passion BWV 247 with Estonians singers in a live recording of a concert at Tallinn Cathedral Estonia, 1996. Apart from this only radio recordings exist, by NDR (Norddeutscher Rundfunk) : Christmas Oratorio 1-3 (BWV 248), St. John's Passion (BWV 245).