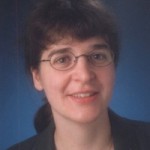 Born in Würzburg (Germany), Heidi Emmert began his organ studies at the age of 11 years. She was a student of Prof. Günther Kaunzinger at the Music Conservatory of Würzburg and Prof. Gerhard Weinberger at the Conservatory of Music of Detmold (Germany) where in 1990, she obtained her organ degree (Konzert-examination) with the highest distinction ("summa cum moor"), and graduated from "Kirchenmusik" ( church musician degree). Then she worked with Marie-Claire Alain at the Conservatoire de Rueil-Malmaison (France).
Heidi Emmert has won numerous national and international competitions:
– 1990 : 1st Prize (Grand Prix Interpretation) of the International Organ Competition of Chartres (France) ; 3rd Calgary International Organ Competition Award (Canada) ; 1 National Prize of the Organ "Felix Mendelssohn-Bartholdy" in Berlin (Germany).
– 1989 : 1st Prize at the 1st European Organ Competition in Ljubljana (Yugoslavia) ; 3rd Prize of the International Organ Competition of the Prague Spring International Music Festival (Czechoslovakia).
– 1987 : 2nd Prize of the Munich International Organ Competition (RFA), the jury did not award 1st prize ; 1 Award and the Audience Award from the International Competition Nuremberg (Germany).
Heidi Emmert gave his first organ recital at the age of 14. Since then, she has performed regularly in Germany and abroad : Berlin Philharmonic, "Royal Festival Hall" in London, Belgium, France, Switzerland, Yugoslavia, USA, Canada. She is invited throughout France, Finland (Finlandis Hall, Helsinki Italy, Austria, England, Czechoslovakia (Prague), USSR at the Cathedral of Riga and Leningrad Philharmonic, etc…
She has made numerous recordings for radio and television, especially in Germany but also in France, Yugoslavia, Czechoslovakia, Canada and the United States.
http://www.hfkm-regensburg.de/hochschule/leitung/dozenten/hauptamtliche-dozenten/emmert-heidi/