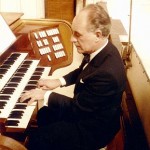 Pierre Gazin, Parisian by birth, took his first organ lessons with his mother who was organist for 52 years in Paris and Nancy. Jean Langlais and Pierre Cochereau, who often invited him to Notre-Dame de Paris, Pierre Gazin was the great French organ school. Among the last student of Marcel Dupré and Rolande Falcinelli at the National Conservatory of Music in Paris he obtained in 1957 the first prize for organ and improvisation unanimously at the National Conservatory of Music in Paris.
Before being appointed professor of organ at the Conservatoire de Metz in 1960, he had married in Paris the Hungarian soprano Maria Posa. The career of Pierre Gazin oscillated between his position holder at The Invalides church, he shared with Bernard Gavoty, many concerts both in Paris and in the provinces or abroad, and ongoing organ and writing that it has provided for nearly 40 years at the Conservatory of Metz. Countless students who have brought honor to his teaching and we collected the best of this man courteous, elegant, professor at the proverbial patience human and humanist.
In 1961, Pierre Gazin had recorded his first album with Maurice André in St Eustache. In 1969 he recorded the Concerto for Organ by Francis Poulenc with the Radio Chamber Orchestra and in 1972 he created the Concerto in G minor by Jean Langlais with the same orchestra. He founded in 1975 the "Musical Hours" Invalides.
Extraordinary improviser, he was a strong advocate of the symphonic organ music of the nineteenth and twentieth centuries. He was often invited to perform on the different instruments of the city of Metz, alone or in duo with his wife. Discreet man, few knew his career. He was the organist in the films "Austerlitz" Abel Gance and "It's midnight Dr. Schweitzer."
March 21, 1998, Pierre GAZIN left us.