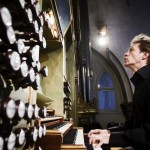 Gunnar IDENSTAM, concert organist, composer and folk musician, is know throughout the world for his virtuouso playing, stunning improvisations and untraditional and original take on organ music. Gunnar Idenstam aims to expand his audience's appreciation of the organ and to transcend the limitations of genre.
He comes from a background of classical music, but has always had a "distant love relationship" with the folk and symphonic rock music of the 1970s. In his work today he has brought these different influences into the context of organ music, when he builds bridges between the French cathedral music traditions, symphonic rock, and Swedish folk music.He also arranges grand orchestral master pieces like Ravel's La valse or Debussy's La Mer for the organ, managing to reproduce similar atmospheres and sound colours as the orchestra would. As a Folk musician he stands out from the crowd with his transpositions adapting the special qualities of the Swedish folk music for the organ.
To develop the wide-ranging music he creates and performs today he studied at the Royal College of Music in Stockholm. He then studied the French tradition with the legendary Marie-Claire Alain in Paris. In both countries he achieved the highest honours. In 1984 he was the first – and to date, the only – organist from northern Europe to win the 'Grand Prix de Chartres', the prestigious international competition in improvisation. Since 1986 he has pursued an international career as a concert organist and has played in venues around the world like Auditorio Nacional in Madrid, Monaco Cathedral, St Eustache cathedral in Paris, Kölner Philharmonie Konzertsaal, Concert Hall Ivan Cankar in Ljubljana and Spivey Hall in Atlanta, USA. In 2011-12 he performed twice in Mariinsky Concert Hall in St. Petersburg, as well as several times in the Center of Performing Arts in Moscow to name a few.
Gunnar Idenstam is also a popular musician at music festivals and has performed at the Risör Chamber Music Festival, Stavanger International Chamber Music Festival, Lahti Organ Festival, Karlsruher Orgelsommer, Bergen Sacred Music Festival, and Potsdamer Festspiele among others.
He collaborates with other musicians such as Johan Hedin (nyckelharpa), Christian Lindberg (trombone), Anders Paulsson (soprano saxophone), Lisa Rydberg (violin) ABBA legend Benny Andersson and dancer and choreographer Virpi Pahkinen.
Gunnar Idenstam's arrangements of orchestral works by Ravel and Debussy are greatly admired and widely performed and are recorded for his next solo CD on BIS Records. Another solo CD is Cathedral Music (BIS-Northern Lights) with a collection of his own compositions. In 2004 was the release of the first of his Swedish folk music CD:s, in surround, with Johan Hedin, nyckelharpa, and the duo since then frequently tours Europe and Japan.
In 2012 Gunnar Idenstam was awarded the prize of "Interpreter of the year" by the Royal Academy of Music. The Prize was presented to him by His Majesty King Carl XVI Gustav of Sweden. In June 2013 he received the Litteris et Artibus – a royal medal for recognition of eminent skills in the artistic field. Idenstam is a member of the Royal Swedish Academy of Music since May 2013.