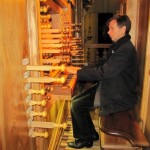 Born in Clermont-Ferrand, in 1942. He studied piano and organ, and at the age of 15 he becomes the holder of the organ in the church of St. Joan of Arc. He organizes regular concerts. Student in Paris from 1962 to 1965 he receives the teaching of Cochereau Pierre and Jean Guillou.
He began to give recitals in various countries and is appreciated in Belgium, Germany, USA, England…
In 1971 he became deputy to the great organ of Saint-Eustache and remained until 1993. During this long period, including that or restoration of the instrument has reduced it to silence, from 1977 to 1989, he frequently accompanied the "Singers of Saint-Eustache" directed by Father Émile Martin to the choir organ for some offices and travel for frequent concerts.
At the official inauguration of the restored organ, in 1989, it was he who accompanied the choir and the blessing of improvised verses and it provides one of the first major recitals few days later. In 1988 he had the honor to play at the opening concert of the World Congress of Organists on the great organ of Kings College, Cambridge.
In 1993 he was appointed organ Kleuker the holder of Our Lady of the Snows of Alpe d'Huez and responsible for organizing concerts where renowned organists will produce from around the world. Since 1988, he conducts summer camps for choir, under the direction of Christian Ciuca, pan flute virtuoso with the Romanian Cornel Pana and organ where he teaches personally.
From 1997 to 2006 he held the organ of Our Lady of Perpetual Help in Paris, and helped make this magnificent instrument of contemporary style by organizing a large series of concerts under the title "organ duet" and at its official opening with the Schola Cantorum orchestra in September 2004.
He leads a triple concert activity : France, Germany, Switzerland, Spain, Italy, Russia, England…, professor at the Schola Cantorum in Paris and in various internships in France and Germany, and liturgical organist.
In addition to his solo concerts, he frequently with the musicians of the Ensemble Intrumental of Paris and the Jubilate Choir, directed by Christian Ciuca.
In 2004, he was named Knight of Arts and Letters and in 2010 he was promoted to the rank of Officer of Arts and Letters by the Minister of Culture.