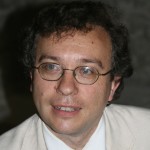 Born in 1961, François Espinasse studied in the Conservatoire Nationale de Région of Toulouse his music studies. He obtains the first price of organ in Xavier Darasse's class in 1980. Then he improves with André Isoir. He is the international competition of Toulouse prizewinner in contemporary music in 1986 and of the Tokyo-Musashino in 1988.
He is co-holder organist in Saint Severin's church in Paris. Since 2005, he teaches also in the Conservatoire National Supérieur de Musique of Lyon. He is chairman for the Commision Nationale Supérieure des Monuments Historiques and for the Commission des Orgues non protégés (the unprotected organs) for the Culture Ministry.
François Espinasse gives also master class in Europe and Asia (Korea and Japan) and takes part in international competition jury like Chartres, Odense, Tokyo, Toulouse…
His cds recording are gratefully cheered by the critic.
Regularly François Espinasse can be seen in concerts and also as soloist in, for instance, the NHK Orchestra directed by Charles Dutoit.
He works with lot of composers like Gilbert Amy, Jean-Yves Bosseur, Xavier Darasse, Pierre Farago, Jean-Louis Florentz, Jacques Lenot, François-Bernard Mâche, …