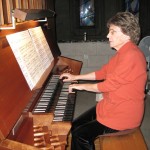 Born in Germany, Elisabeth ROLOFF is recognised internationally as an outstanding concert organist. She has performed in many important cathedrals, churches and concert halls in Europe (including the Royal Festival Hall in London and Notre-Dame in Paris) as well as in the United States, Mexico, Russia and South America (Buenos Aires, Montevideo and San Paolo). Since 1992 Elisabeth has also given organ recitals in the important music centres of Eastern Europe (Leipzig, Budapest, Prague, Kiev, Riga, etc.). She has been acclaimed by the critics and has been presented in major festivals as well as on the radio in many countries. Currently she is the organist at the Lutheran Church of the Redeemer in Jerusalem and head of the organ department of the Jerusalem Academy of Music and Dance, and appears regularly as a recitalist, accompanist and chamber musician.
After graduating from the Hochschule für Musik in Cologne, Elisabeth ROLOFF continued her studies with Ralph Downes at the Royal College of Music in London. In mid 1970s she studied French music with Marie-Claire Alain and while based in Paris she was appointed Organiste Titulaire of the German Church there. Her repertoire encompasses all important works from the international repertoire, and in 1985 she performed the complete organ works of J. S. Bach in the Jerusalem "Bach Organ Festival", commemorating the 300th anniversary of the composer's birth.
Elisabeth Roloff has made numerous commercial recordings, CDs, and audiocassettes of a large repertoire of organ works by Bach, Buxtehude, Mozart, and Pachelbel, as well as a recording of "Musica Sacra at the Redeemer Church in Jerusalem", and a recital disc recorded on the organs of six different Jerusalem churches, "Orgellandschaft Jerusalem".