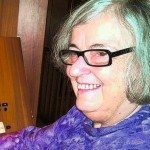 Almut Rössler church music director in Düsseldorf University professor Robert Schumann.
Well known as Messiaen interpreter, after many years of close collaboration with the composer. Its cycle "Meditations on the Mystery of the Holy Trinity" in 1972 led them to the European creation of the work ; the same in 1986 was played for the first time in Europe and the United States the "Livre du Saint Sacrement".
Almut Rössler studied organ, piano and church in Detmold with Michael Schneider and Gaston Litaize in Paris (Organ), with Hans Richter Haaser (piano) and Kurt Thomas. She received the State examination for Church music.
During her career, she has given concerts throughout Germany, most European countries, USA, Canada, Japan, Korea and Israel, including the Berlin Philharmonic, the Alte Oper Frankfurt, the Royal Festival Hall in London, the Holy Osaka Symphony Hall in Japan and the Messiaen concerts in the Church of the Trinity, Paris.
Radio and television shows were made, among others, the PBS BBC, NHK Tokyo Radio France, Boston and almost all German radio stations.
She has participated as an artist and artistic director of various major festivals and music festivals, such as Messiaen celebrations Düsseldorf 1968, 1972, 1979 and 1986. She founded and directed the choir of St. John of 1967-1997 .
Prize of the German Record Critics in 1973 for his recording of Messiaen on "Meditations on the Mystery of the Holy Trinity," Academic Palms in 1981 in France, elected organist of the year at the University of Michigan in 1986 recognition of his contribution to music.