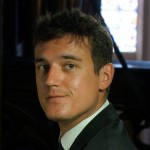 David Baskeyfield is the winner of the first prize and audience prize at the St Albans International Organ Competition, 2011. Following success in a number earlier competitions (1st prize, audience prize, Miami International Organ Competition 2010; 1st prize, Mader Memorial Organ Competition, LA, 2010; 2nd prize, Dublin International Organ Competition 2011, 1st prize, Rodland 2011; and 1st prize and audience prize, AGO National Competition in Organ Improvisation 2011) has begun to embark on a performing based both in Europe and in the United States.
David read Law at Oxford as organ scholar at St John's College, studying with John Wellingham and David Sanger. He is currently a doctoral student at the Eastman School of Music (New York) under David Higgs and William Porter. Between Oxford and Eastman he spent a year as organ scholar of Christ Church Cathedra) and St Patrick's Cathedral, Dublin.
Some recent and upcoming recital engagements include Washington National Cathedral, National City Christian Church, St Thomas' 5th Avenue, King's College, Cambridge, St Albans Cathedral, St Giles' Cathedral, Edinburgh, Symphony Hall, Birmingham, St Peter's Cathedral, Worms (Germant'), St Bavo, Haarlem, and St Sulpice. A recording project with Priory is planned to take place this year, tentatively comprising lesser-known works of the French symphonic school, at the Cavaillé-Coll organ of St Étienne, Caen.
Aside from solo performance David is active as an accompanist, continuo player and occasional cocktail pianist. He has also taken to accompanying silent movies; recent engagements have featured The Phantom of the Opera (1925) and Nosferatu (1922). He also enjoys occasional access to the large Wurlitzer organ in the Auditorium Theatre in downtown Rochester, and has gone some way to legitimising this private indulgence in being elected as a director on the Board of the Rochester Theatre Organ Society.
He is enthusiastic about food, red wine, microbrews, and Malawi cichlids. He is represented in the USA by Phillip Truckenbrod Concert Artists.
http://www.concertorganists.com/artists/david-baskeyfield/