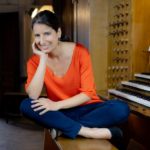 Anne-Isabelle de PARCEVAUX is titular organist at Saint Ignace in Paris, and assistant titular organist at Saint Louis Cathedral in Versailles.
Trained at the Conservatory of Saint-Maur-des-Fossés for organ (class of Éric Lebrun) and improvisation (Pierre Pincemaille), she also holds a Master's degree in musical writing from the Conservatoire National Supérieur de Paris (CNSM, Prix d'Harmonie, de Fugue, et de contrepoint).
She performs regularly in concert, as a soloist or in various formations, with a predilection for French music, from the Baroque period to the present day.
Also a graduate in History at the Sorbonne, in 2015 she published the first French biography of organist and composer Charles-Marie Widor, published by Bleu Nuit Éditeur. Also a teacher and passionate about the learning mechanisms of music, she is the author of a blog on the brain and learning music: "the musician's brain".