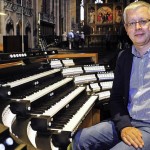 Wolfgang Seifen, born in Bergheim/Erft, Germany, in 1956, received his early musical training at the music school of the Regensburger Domspatzen and studied church music from 1973 to 1976 in Aachen, Germany.
After working as a church musician in Aachen and Nettetal-Lobberich, he became organist of the Papal Basilica of St. Mary in Kevelaer, Germany. Here, on the large Seifert organ (128 stops, 4 manuals), his international reputation as a much-sought-after improviser grew. He also worked as a choral conductor and published his own compositions.
Wolfgang Seifen taught improvisation and liturgical organ playing at the State Music Conservatory in Stuttgart from 1989 to 1992, and at the Robert Schumann Conservatory in Duesseldorf from 1992 to 2000. He was named honorary professor in 1995. In October of 2000, he was called to the position of professor for improvisation and liturgical organ playing at the University of the Arts in Berlin.
In 2004 he was named Titulary Organist of the Kaiser-Wilhelm-Gedaechtnis-Kirche (Emperor Wilhelm Memorial Church), Berlin.
In 2006 he was engaged to compose a Missa Solemnis "Tu es Petrus" for Grand Orchestra, Choir and Organ for Pope Benedikt XVI´s 80th birthday.
Wolfgang Seifen has been a prizewinner of several improvisation competitions, including Strassburg (1990) and Nuernberg (1992). In addition to his busy, international performing schedule, he is a co-founder and teacher of the International Altenberg Organ Academy for Improvisation as well as a teacher at other international academies and courses.
Numerous recordings and television appearances have made Wolfgang Seifen's art accessible to a large public. He has also published on the topics of organ improvisation and organ building.