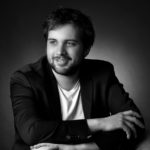 A native of the Charente, Thomas PELLERIN studied the organ with Olivier Vernet, Jean-Luc Étienne, Éric Lebrun and Johann Vexo, and also studied the harpsichord with Françoise Marmin in Angers. He completed his training at the C.N.S.M.D. in Lyon, brilliantly gaining two Master's degrees in organ and continuo, studying under François Espinasse, Liesbeth Schlumberger and Yves Rechsteiner.
He is grand prize winner of the Jean-Sébastien Bach competition in Saint-Pierre-les-Nemours (2017) and he has also won the international Renaissance organ competition in Saint-Julien-du-Sault (2013), the Joseph-Bossard competition in Bellelay (Switzerland, 2013) and the Tremplin d'Orgue of Bolbec (2013).
He initiated the Italian Renaissance organ construction project in Saint Cyhard church in Pranzac (Charente) and is founder and artistic director of the Festival "Au gré des Arts", whose first edition was held in 2011.
He has appeared as soloist in many prestigious venues and festivals (Festival de La Chaise-Dieu, Toulouse les Orgues, Festival de Lanvellec, etc.). Thomas Pellerin appears regularly as a continuo player in several ensembles (La Fenice, The Furious Arts, Artemandoline).
In 2013, he participated in the premiere of Gabriel Marghieri's work "Mainte nuit sans repos" with the composer and the actor Francis Perrin. Thomas Pellerin holds the Certificat d'Aptitude in organ teaching and a Master's degree in pedagogy. After teaching organ and harpsichord at Roanne Conservatoire, he has been teaching organ at the Conservatoire à Rayonnement Régional in Angers since 2016.
Thomas Pellerin is Organiste Titulaire of the Dangeville/Cavaillé-Coll/Beuchet organ of Saint Maurice Cathedral in Angers since February 2018.