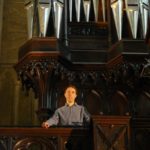 Born in 1984, Thibaut DURET took his first organ lessons at the Grenoble music school, as a pupil of Pierre Perdigon and Yves Lafargue, finishing this first part of his training with the DEM Diploma of Musical Studies in organ.
Switching to the regional conservatory in Rueil-Malmaison, he continues his organ studies with François-Henri Houbart: he is awarded the Excellence Prize and an attributed prize in perfection level.
Afterwards, he is unanimously admitted at the Lyon CNSM Conservatoire National Supérieur de Musique to continue his studies with François Espinasse and Liesbeth Schlumberger, obtaining several diploma: the Professional Musician Higher Diploma (DNSPM: Diplôme National Supérieur Professionnel de Musicien), a Master grade in organ marked "very good", another master in pedagogic as well as the teaching license in organ in 2014.
In parallel, Thibaut Duret also studies improvisation with Loic Mallié, Gabriel Marghieri and Franck Vaudray.
In 2009, resulting from a competition, Thibaut DURET is appointed titular organist on the Great Organ of Chambéry cathedral. Since September 2014 he is teaching organ at the conservatory in Annecy (covering the Savoy region), but he is also the artistic director of the "organ friends' music season" at Chambéry cathedral.
Thibaut Duret has already given concerts on instruments all over France: in Paris (Notre-Dame, La Madeleine), in Lyon (St. John primate church, Fourvière, St. Francis, Maurice-Ravel-Hall), in Auch, Annecy, Chambéry, Dôle, Dijon, Évian, Grenoble, Langres, Laon, in Le Grand Bornand, Limoges, Quimper, St. Antoine l'Abbaye, St. Étienne, St. Malo, Rueil Malmaison, Le Touquet, Valence…
He has performed recitals in Germany (Bensheim), Guyana, in Switzerland (Geneva Victoria-Hall and cathedral), in Luxembourg cathedral…
Thibault Duret has also been invited to play at festivals such as the Classic-Festival in Annecy, the Bach-Festivals in St. Donat and in Combrailles, and Bel Air Clavier Festival in Chambéry…
Furthermore, Thibaut Duret regularly plays with small ensembles, e.g. "strings & organ" (Quartet Adastra or the Annecy Pléiade Ensemble), in duos such as "Cello & Organ" (with Laure Hélène Michel), "Piano & Organ" (with Thibault Maignan)…
In 2017 he founded, with one of his friends, the CD-label Claviorganum, aiming to highlight special instruments by means of recordings.