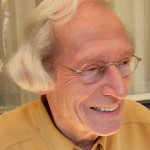 Born August 30, 1927 at Zaandam (Holland), the Dutch concert organist and composer, Pieter [Piet] William Kee, began music with his father Cor Kee, and later organ, piano and composition at the Amsterdam Conservatory, with Anthon van der Horst, among others. He played several instruments : piano, organ, violin, clarinet. His studies were honoured with the Prix d'Excellence. He won first prize at the annual Haarlem International Improvisation Competition three times in succession (1953 to 1955).
Piet Kee taught at the Music Lyceum and Sweelinck Conservatory in Amsterdam from 1954 until 1988, and at the Haarlem International Summer Academy for Organists. He was organist at St. Laurens church in Alkmaar from 1952 to 1986 (or 1987), and city organist of the world famous Müller organ at St. Bavokerk in Haarlem from 1956 until 1989.
Piet Kee made concert tours all over the world in Europe, America, Asia and Australia. His improvisation skills are renowned, and he is a frequent jury member at organ festival competitions. His compositions now include the Haarlem Concerto, which received its first performance by Thomas Trotter in March 2006.
Piet Kee has made numerous recordings, several of which received awards. His earlier recordings can be found on the Telefunken, HMV, Philips and Guild labels. Starting in 1989 he made a series of eleven recordings for Chandos, including works of Jan Pieterszoon Sweelinck , Johann Pachelbel , Nicolaus Bruhns , Dietrich Buxtehude , JS Bach, Felix Mendelssohn , Frank, Alain, Max Reger , Paul Hindemith , Andriessen and Messiaen on notable European instruments including St. Bavo Haarlem, St. Laurens Alkmaar, Roskilde Cathedral Denmark, Basilika Weingarten, Martini Church Groningen and the Concertgebouw in Amsterdam. Several of these recordings are now available as MP3 downloads.
In 1988, with Olivier Messiaen Piet Kee received an Honorary Fellowship of the Royal College of Organists.