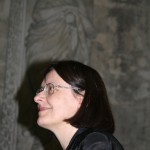 Pascale ROUET first studied music in Charleville-Mézières and then at the Conservatoire in Reims. She continued at the Paris Conservatoire in organ, improvisation, harmony, counterpoint and orchestration.
She then studied improvisation with Jean-Pierre LEGUAY, organ with André ISOIR and Bernard FOCCROULLE. In 1986 she obtained first prize in the International Competition in Toulouse, devoted to contemporary music.
She was appointed organ teacher at the National Music School of Charleville-Mézières in 1988 and organist at the abbey of Mouzon in 1991.
Aware of the rich organ repertoire from the origin to the present, she has a wide and varied repertoire. She has collaborated with Renaissance ensembles, brass ensembles, vocal ensembles, participating in many festivals in France, Germany, Switzerland, Slovenia.
http://fr.wikipedia.org/wiki/Pascale_Rouet