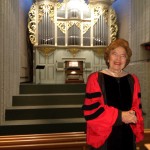 Among the important influences on the American organ scene in the second half of the 20th century, Marilyn Mason certainly has made a lasting impact in her distinguished career as concert organist, lecturer, adjudicator, teacher, organ consultant, recording artist, and by the nearly 75 organ works she has commissioned. Her name commands immediate recognition among organists today, confirming her impact more than 50 years after she made her debut.
Marilyn Mason is University Organist, Professor of Music, and Chairman of the Organ Department of the University of Michigan in Ann Arbor. Her affiliation with Michigan began in 1944 as she began her undergraduate studies there under Palmer Christian, later completing her M.Mus degree. And, except for a year spent in France, where she studied under Nadia Boulanger (analysis) and Maurice Duruflé (organ) and time studying for her Doctor of Sacred Music degree at Union Theological seminary in New York, she has spent her entire career in Ann Arbor. Marilyn Mason has been consistently recognized by the faculty : first, as an undergraduate, she was awarded the Stanley Medal, the highest award given to any music major. Later, in her teaching career, her colleagues presented her with the Distinguished Faculty Award, and music alumni awarded her the first Citation of Merit. During her time at Michigan, annual summer and fall organ music conferences have become regular highlights, she has led organ tours abroad to see and hear historic organs, and the Marilyn Mason Organ was installed in a specifically-built recital hall. The organ, built by C. B. Fisk, is a replica in the spirit of the instruments of the 18th century organ builder, Gottfried Silbermann, whose organs Bach knew well.
Marilyn Mason has performed on every continent, save Antarctica. She was the first American woman to play in Westminster Abbey, the first woman organist to play in Latin America, and the first American to play in Egypt. She has served as judge at nearly every major organ competition in the world. Her dedication to modern organ music is evidenced by the names of influential composers who have written for her : Albright, Bolcom, Cook, Cowell, Creston, Diemer, Haines, Jackson, David Johnson, Jordan, Krenek, Langlais, Lockwood, Near, Persichetti, Sowerby, Wyton, and Young. Marilyn Mason is currently recording the complete works of Johann Pachelbel for the Musical Heritage Society. In 1987, she was awarded the degree Doctor of Music honoris causa from the University of Nebraska.