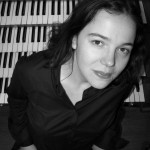 Marie FAUCQUEUR was born in 1980 and began her musical studies at the music school in Châteaudun, learning to play the piano and the trumpet. Subsequently at the Orleans Conservatory she received for these instruments a first prize in the class of Daniel Benzakoun and a première médaille in the class of Jean-Paul Leroy. She took her first organ lessons at the age of sixteen with François-Henri Houbart, then with Michelle Lecierc. She currently studies with Éric Lebrun at the Conservatory of St Maur des Fossés. She has also participated in master-classes given by Marie-Claire Alain, Michel Chapuis, Pierre Mea and François Espinasse. For the organ, the Conservatory of Orléans and Rueil-Malmaison awarded her unanimously two First Prizes, and she also obtained a premier prix régional and the Prix René Thinat de la ville d'Orléans. In November 2006 she was awarded the Gaston Litaize Prize at the Duruflé-Litaize international organ competition.
She is holding a license de musique and a diploma for old instrunnents, especialty for organ; she has also studied harmmony and counterpoint with Claude-Henry Joubert and piano accompaniment with Pascal Le Corne.
Marie has performed extensively both as a soloist and within orchestras, such as the Orchestre Colonne conducted by Laurent Petitgirard. She has performed at the festivals of Lorris en Gatinais, Cunault and Trie sur Baïse (with the Ensemble Roger Piquemal) and at various occasions in Alsace : in Rinbachzell, Colmar and Oberhergheim, where she performed the inaugural concert on the newly restored historic Collinet organ.
In addition to her activities as an organist, Marie Faucqueur is the Artistic Director of the harmonium museum in Bars (Dordogne), chairing also the Association of Friends of the Organ of St. Valérien in Châteaudun. She is conducting the Chateaudun Orchestre d'Harmonie and a1so co-founded the journal "La Revue Historique d'histoire de l'orgue en Alsace".