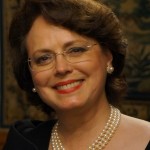 A native of Michigan, leading international concert organist Lynne Davis graduated with honors in organ performance from the University of Michigan where she studied with Robert Clark. Shortly after, she moved to France to study with Marie-Claire Alain. While there she also studied with Jean Langlais, Maurice and Marie-Madeleine Duruflé, and Edouard Souberbielle as well as other great European master organists.
For over thirty years, Lynne Davis made France her home, marrying Frenchman and Chartres International Organ Competition founder, Pierre Firmin-Didot. Between them the couple played a major role in the French organ music scene, initiating among other things the famous 1992 exhibition and recording of "Les Orgues de Paris".
Lynne Davis' career was launched by taking First Prize at the prestigious St. Albans International Organ Competition in England. Since then, her activities have included being a featured performer at two American Guild of Organist national conventions, a member of international organ competition juries, giving concerts, masterclasses and lectures about French organ literature and its history. Her unique living and working experience in France gives her the status of world authority in all French organ repertoire.
She holds the "Certificat d'Aptitude de Professeur d'Orgue" delivered by the Republic of France. A renowned teacher, she has served as organ professor at the Conservatory of Music in Clamart near Paris and from 1997 to 2006 at the French National Regional Conservatory in Caen in Normandy. In the fall of 2006, she was appointed Associate Professor of Organ, holding the Ann & Dennis Ross Endowed Faculty of Distinction chair at the Wichita State University School of Music in Kansas. In addition to heading the organ program, she also produces the Rie Bloomfield Organ Series and performs monthly half-hour organ recitals, the "Wednesdays in Wiedemann" series she created in 2007.
Lynne Davis performs extensively and always to enthusiastic critical acclaim both in Europe and North America. Her recordings include discs, radio broadcasts and live performances particularly on the famed organ at Chartres Cathedral in France where her disc "Musique pour Cathédrales" won the coveted French 5 Diapasons award. After Ms. Davis' recording, "Lynne Davis en Concert" on the world-renowned Cavaillé-Coll organ at the church of St. Etienne in Caen in Normandy, her most recent CD is "Lynne Davis at the Marcussen organ in Wiedemann Hall" at Wichita State University.
In 2011, Lynne Davis received the Excellence in Creativity Award from Wichita State University. In 2012 as Lynne Firmin-Didot, she was awarded the prestigious distinction of Chevalier de l'Ordre des Arts et des Lettres from the French Ministry of Culture and Communication.