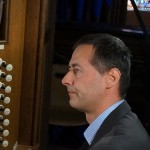 Laurent Bouis was born on 1967.
After crowned with the musical baccalaureate studies, he prepares a musicology diploma at the University of Sorbonne in Paris.
Then, he enters the Schola Cantorum of Paris in the class of André Fleury, where he successively gets the virtuosity diploma, with distinction, and the concert diploma. He also studies composition.
He later works at the "Conservatoire national de Région" of Lille in the classes of Jean Boyer and Aude Heurtematte.
In 1987, Laurent Bouis was unanimously prize-winner with jury congratulations of the U.F.A.M. international organ competition, Paris.
After being organist of the Cavaillé-Coll organ at the Cathedral of Orleans, he was named at the age of 24 years assistant organist of the Chartres Cathedral.
He performs in Europe, South America, USA.