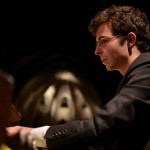 Originally from New York City, American organist John Walthausen obtained his Master's Degree in the class of Olivier Latry and Michel Bouvard at the Conservatoire National Supérieur de Musique de Paris in 2013. Before coming to France, John did his undergraduate studies with James David Christie at Oberlin Conservatory, USA.
In 2009, he won the first prize of the Regional Competition for Young Organiste of the American Guild of Organists, and then in 2012 the first prize of the Pierre de Manchicourt competition in Béthune, France.
John Walthausen performs regularly in France and the United States (in 2009 Oberlin Messiaen festival ; in 2012 hommage to composer Xavier Darasse ; "Nuit de l'Orgue" at the Festival Toulouse Les Orgues). He also played in the orchestra of the Conservatoire de Paris at Notre Dame de Paris and the Salle Pleyel.
On obtaining his Bachelors degree, he was elected to membership in Pi Kappa Lambda, the American National Honors Society for musicians.
http://www.johnwalthausen.com/