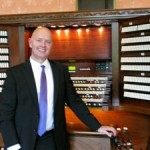 Jeffrey's responsibilities at Bryn Mawr Church include directing the Senior Choir and Bryn Mawr Chamber Singers; oversight of the Vespers Series; oversight of all children and youth choirs; the West Philadelphia Children's Choir, and the church's arts outreach and visual arts ministries. He is the church's principal organist.
In May 2005, he was appointed Lecturer in Organ Improvisation at Yale University. In 1994 he was first place prize winner in the American Guild of Organists National Competition in Organ Improvisation. Since that time, his recital tours have taken him throughout America, with engagements in San Diego, Seattle, Birmingham, Waco, Chicago, Pittsburgh, New York City, Iowa City, Des Moines, Worcester, and throughout the eastern seaboard. In May 2006, heperformed with the Pittsburgh Symphony in one of the inaugural concerts of the new Dobson Organ in Kimmel Center. In July 2006, he was the director of the Adult and Chamber Choirs at the Presbyterian Association of Musician's Westminster Conference. In 2008, he took a 6-month sabbatical during which he studied improvisation with Sophie-Véronique Cauchefer-Choplin and Tomas A. Nowak. He also authored "Breaking Free", an organ improvisation textbook (for more information, e-mail jeffrey398@aol.com). He will teach from "Breaking Free" at Westminster Choir College, June 22-26, 2009.
He has presented master classes at the Curtis Institute of Music, University of Iowa, Baylor University, the Eastman School of Music, Westminster Choir College, and for numerous chapters of The American Guild of Organists. He has also served as special music advisor to The Philadelphia Orchestra, working with Maestros Bobby McFerrin and Thomas Wilkins.
In June 1999, Jeffrey Brillhart was appointed the fourth Music Director of Singing City, having served as Associate Director in the 1998-99 season, when he worked closely with then Music Director Joseph Flummerfelt. As Music Director, Mr. Brillhart provides artistic leadership for a rich program of concerts, educational instruction in local schools, and outreach to diverse communities. He directs the choir and oversees all aspects of Singing City's musical initiatives. During his tenure with Singing City the choir has traveled to Cuba, Northern Ireland and the Republic of Ireland, presented more than one hundred-fifty concerts, performed with The Philadelphia Orchestra and the Chamber Orchestra of Philadelphia, and worked with such internationally renowned artists as Helmuth Rilling, Dave Brubeck, Nick Page, Moses Hogan, Andre Thomas, Anton Armstrong, and Weston Noble, and Rossen Milanov.
In 1993, he took a five month study leave in Paris, France where he studied organ improvisation, the organ symphonies of Louis Vierne, and the music of Maurice Duruflé. His coaches included Olivier Latry, Philippe Lefebvre, Marie Madeleine Duruflé and Wolfgang Seifan. While in France he was one of the first Americans to play a recital on the newly restored organ at Notre-Dame Cathedral, performing works of Louis Vierne and Max Reger. A second sabbatical in 2008 included improvisation studies with Tomasz Nowak, Messiaen studies with Olivier Latry, and work on an improvisation textbook. Titled "Breaking Free," the book approaches organ improvisation in a 20th century French context.
Mr. Brillhart's formal training was at Drake University, where he received his Bachelor of Church Music degree, and at the Eastman School of Music, where he received a Master of Performance and Literature degree. Prior to and during this time his organ study was with Frank B. Jordan, Carl Staplin, Arthur Poister and Russell Saunders. A pianist, harpsichordist, conductor and singer as well, he studied with Barbara Lister-Sink, Lenora McCroskey and Margaret Hauptmann. While at Eastman, Mr. Brillhart was active as a pianist in the studios of Jan DeGaetani, John Maloy, Thomas Paul and Peter Salaff.