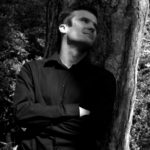 The organist Jean-Luc THELLIN comes from Liège ; today he is appointed organ teacher at Chartres' music school (influence on the whole departement Eure-et-Loir)  ; he is also teaching organ at the music school in Melun, as well as harpsichord in Sens.
He has won several international competitions. But he decided not to get specialised in any special field of music history; thus the public can hear him play ancient music and works from 20th century, than naturally switch to Johanan Sebastian Bach and also play romantic works. For this reason he is invited to play at various types of festivals : the Spa 'music autumn', the International Festival in Roquevaire (France), Oiva (Poland), "Toulouse en orgue", Alkmaar (Netherlands), Notre-Dame in Paris, the Liège Organ Festival…
He is particularly passionate about J.S. Bach's organ works, César Franck and Maurice Duruflé; he performed his complete works some years ago …
His most important aim is to make discover to his audience this brilliant Liege composer from the most different points of view.
The second important point for him is improvisation : in his recitals as well as during the services, Jean-Luc Thellin is attributing an important part to improvisation, allowing him to gather the parish members, other auditors and the organist himself  in a special atmosphere perceptible for everyone and thus creating a sort of communication  while taking into account the present emotions. For this feature, he has taken advice from our times best improvisers, Firmin Decerf und Thierry Escaich, learning from their experience and putting new impulses into practice.
In December 2007, at the commemoration of Louis Vierne's 70th date of death he paid, in Notre Dame in Paris, a profound tribute to the composer and organist, improvising in the master's style the final movement of a symphony.
In 2010, as a result of a previous competition, Jean-Luc Thellin, was appointed main organist on the Stolz-Organ in Notre-Dame Church in Vincennes.
In 2018 he started working on a new recording of Bach's complete organ works.