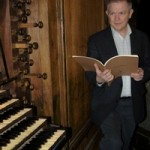 Jean-Baptiste Courtois was born in 1954.
After his organ studies with Jean Langlais at the Schola Cantorum, he was admitted to the National Superior Consaervatory of Music in Paris where he was awarded 1st Prizes in organ, harmony, counterpoint and fugue.
He was first organist of the Cavaillé-Coll organ at St. Ignace in Paris, and was appointed in 1989 to the prestigious organ of St. Gervais and now enjoys the privilège of playing the Couperin family's wonderful instrument.
Jean-Baptiste Courtois has performed in France. Europe. U.S.A. and Russia.
He has been teaching at the Conservatory National of Region in Lille and at the Sorbonne University in Paris from 1981 to 1991 and is now director of the Conservatory in Antony, near Paris.