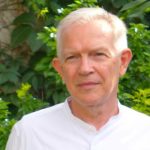 Jean-Baptiste COURTOIS studied the organ with Jean Langlais and was then admitted at Paris Conservatoire where he was awarded four First Prizes.
At 14 he used to play the Cavaillé-Coll organ at St.Ignace Church in Paris; in 1989 he was appointed tenured organist at St.Gervais, playing the Couperin family historical organ, where he served during thirty years.As a concertist, he has performed in France and other European countries, as well as un the USA and in Russia.
He has been teaching at Lille Conservatory and Paris-Sorbonne University, then became manager of the Conservatory in Antony. In 1995 he joined the Paris National Conservatory CNSMDP executive team before being appointed here in 2000, as professor in counterpoint.