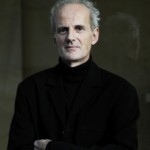 After starting organ with Jean Costa, Gilles Harlé worked successively with Xavier Darasse (gold medal CNR of Toulouse), Odile Bailleux (Paris) and Michael Radulescu (Vienna).
It also carries out studies and writing analysis (CNR Toulouse) Conductors (CNR of Rueil-Malmaison and Hochschule für Musik in Vienna) and harpsichord with Noëlle Spieth (CNR of Paris).
He has won international competitions in Toulouse (1981), Bruges (1982) and Innsbruck (1986).
Parallel to a concert career in France and abroad, it is expected to play with various ensembles such as La Grande Ecurie and La Chambre du Roy, La Chapelle Royale, Sagittarius, Young Soloists, Ars Nova, The Simphonie Marais .
Holder organ Billettes (Paris), he currently teaches organ at the Conservatoire de Meaux and harpsichord at the Conservatory of Bourg-la-Reine.