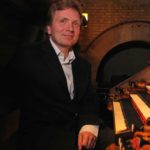 A former student of Gaston Litaize, Éric LEBRUN completed his studies at the Conservatory of Paris. He graduated with the highest honors including a first prize in the organ class of Michel Chapuis.
He has worked with other professors such as Anne-Marie Barat, Daniel Roth, Olivier Latry and Michel Bouvard as well as with the pianists Bruno Rigutto and Pierre Duvauchelle, the orchestral conductor Gérard Devos and the musicologists Jean Maillard, Brigitte François-Sappey and Jean Saint-Arroman. With the latter he participated in the reconstitution of complete religious services of 17th century France.
Éric Lebrun has been an award winner and finalist in several international competitions (organ, composition, chamber music) and in 1990 was named titular organist of the Cavaillé-Coll instrument at the Parisian church Saint Antoine des Quinze-Vingts. There he recorded the complete organ works of Jehan Alain, Maurice Duruflé and César Franck as well as several broadcasts for France-Musique. He founded and has directed since 1991 the "Choeurs de Saint Antoine". The repertory of this group includes major sacred choral works from the Middle Ages to the contemporary period.
In collaboration with Marie-Ange Leurent, Éric Lebrun has formed a popular organ duo for four hands. He also performs as a soloist with various orchestras and vocal groups (Ensemble Orchestral de Paris, Orchestra National de Budapest, Ensemble Instrumental Jean-Walter Audoli, Choeur de Radio-France, Choeur Régional Vittoria d'Ile de France, Ensemble Vocal Michel Piquemal, Orchestre Symphonique de Aarhus, Denmark…). He has given the inaugural performance of many compositions for organ, some of them written especially for him (Valéry Aubertin, Jacques Castérède, Thierry Escaich, Kamilo Lendvay, Gaston Litaize…).
From music for solo violin to an oratorio Eric Lebrun has composed about fifty works including the cycle Mystères du Rosaire, Trois Poèmes Liturgiques (commissioned by the Sacred Music Festival of Sylvanès Abbey), Sonata Sacra for great organ (commissioned by the Comminges Festival) and Canticum Fratris Solis based on the life of Saint Francis of Assisi (inaugural performance by France-Musique).
After teaching at the Conservatory of Fontainebleau and at the Sorbonne and in addition to directing the National School of Music and Dance at Cachan, Éric Lebrun founded the Didactic class at the National Superior Conservatory of Music in Paris. He now is professor of organ at the Conservatory of Regional Musical Influence at Saint-Maur des Fossés and regularly gives master classes at music schools such as The Royal Academy of Music in London and the National Conservatories of Bologne, Piacenza (Italy) and Zwolle (Holland). He was founder of the Organ Academies of Nemours and Sarlat and spent several seasons as organ professor at the International Academy of Comminges. For sixteen consecutive years Eric Lebrun was artistic director of the Organ Academy of Issenheim which included about thirty of the great Alsatian organs. He then founded the Organ Academy of Bourron-Marlotte in the Fontainebleau area. He has Certificates of Aptitude for the profession of teaching organ, musical culture and for directorship.
In 2006 he wrote a biography of Dietrich Buxtehude (Edited by Bleu-Nuit). He then recorded (on 6 CDs) with Marie-Ange Leurent, that composer's organ works (Bayard- Musique) which received the Grand Prix du Disque de l'Académie Charles Cros.  He next recorded the organ works of Boëly (Choc du Monde de la Musique) which was accompanied by a biography of the composer written in collaboration with Brigitte François-Sappey. Éric Lebrun is also the founder and president of the Association Gaston Litaize and he and Marie-Ange Leurent recorded his complete organ works for Litaize's one hundredth anniversary in 2009.
In 2010 his Vingt Mystères du Rosaire, opus 10 was published and his double album of Franz Liszt's works was released. In 2011 he gave the inaugural concert of his Suite for organ, opus 18 at the Paris church of Saint Eustache. The year 2012 saw the publication of his monograph of César Franck (Edited by Bleu-Nuit).
His organ class at Saint-Maur joined the Superior Pole of Excellence 93 in June 2015. In December of that year he was named honorary professor at the Royal Academy of Music of Aarhus, Denmark. Currently he is recording with Marie-Ange Leurent the complete organ works of Johan Sebastian Bach on 20 CDs scheduled to be finished in 2020 (Monthabor Musique). In 2016 he published a new biography of Johan Sebastian Bach (edited by Bleu-Nuit).