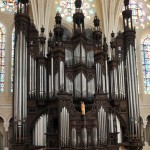 The finales of the 25th international competition of organ "Grand Prix of Chartres" took place on Sunday, September 4th, 2016 in the cathedral Notre-Dame of Chartres.
Dedicated to improvisation, the program of finals included :
1) Improvisation of 3 verses on a Gregorian theme
2) Improvisation of a triptych on two imposed themes – composed by Thierry ESCAICH (maximum 15 minutes duration)
3) Improvisation on a biblical text (maximum 9 minutes).
The jury, chaired by Philippe LEFEBVRE (France), and made up of Sophie-Véronique CAUCHEFER-CHOPLIN (France), George C. BAKER (United-States), David BRIGGS (Great-Britain), Patrick DELABRE (France), Gunnar IDENSTAM (Sweden), Loïc MALLIÉ (France), Zsigmond SZATHMÁRY (Hungary), awarded the "Grand Prix de Chartres" Improvisation, ex aequo to David CASSAN (27 years old, France) and Karol MOSSAKOWSKI (25 years old, Poland).
Prize of the public was awarded, by vote of the public, to David CASSAN.
​