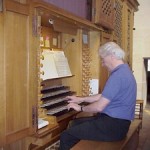 Choirmaster and organist emeritus of the great organ at St. Thomas Aquinas Church in Paris, Arsene Bedois very early undertook research on the Gregorian, the music of the Middle Ages, the Renaissance (vocal and instrumental ) and the Baroque period, at the behest of his masters Marcel Bitch (counterpoint, fugue), Daniel Lesur (counterpoint), Edouard Souberbielle (organ, improvisation, harmony), Jacques Chailley, Eugene Cardine and Huglo (medieval music, Gregorian chant and semiotics), Henri Pumpkin (modality accompaniment of Gregorian chant). He also worked with Professor Mas i Bonet of Barcelona (old Iberian music) and followed Pierre Boulez analysis courses and Luigi Nono Acanthes center of Villeneuve-lès-Avignon.
Defender of the tradition of the cantor, Arsene Bedois is among the first musicians to have partners – the early 1970s – the revival of the interpretation of Baroque music. In particular, he recorded works French, German, Spanish and Portuguese in the sixteenth, seventeenth and eighteenth centuries, critically acclaimed recordings : polyphonic Masses of the Ars Nova : the manuscript of Apt and the school of Florence (Arion) , Gregorian Chant at the time of Guillaume de Machaut : Rhythmic Office of Saint Juvenal (Erato), Office and Mass of the crazy ass Pierre Corbeil (Erato), Tournai Mass (anonymous fourteenth century) and Messe Nostre Dame Guillaume de Machaut (Erato), Music in the time of Philippe Auguste (Erato) Grand Prize of the French Academy disk, Portuguese masters (Arion) The organs of Paris (Erato) The organ of St. Thomas Aquinas (Live, SoReal-Melody) Dynasty Couperin (Ligia Digital).
Arsène Bedois has conducted numerous radio broadcasts, he leads French Baroque interpretation courses, medieval music and Gregorian (Pagani festival near Naples). He lectures on the history of music and its interpretation.
Invited to play regularly in Europe and Latin America (Argentina, Brazil, Uruguay, Paraguay), Arsene Bedois part in many international festivals, alone or with singers and solo instrumentalists.
Honorary member of the advisory board of the organ of the City of Paris, he is called to act as a consultant for the restoration and maintenance of organs, in France and abroad.