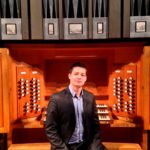 Ádám TABAJDI had his first experience with organ thanks to Dr. Dezső Karasszon. He attended Kodály Zoltán Vocational School of Music, first the organ faculty at Dániel Sárosi, then the piano faculty at Béla Grünwald.
In 2009, he was awarded Gold rating at the 3rd International Young Organist's Meeting  in Szeged, Hungary. From 2011, he continued his studies at Liszt Ferenc Academy of Music under the direction of László Fassang, István Ruppert, János Pálúr and Balázs Szabó.
During his university years, he made several foreign study tours in France and Germany, where he got to know the major historic organs. He spent 6 years altogether as a cantor at the Füredi úti Reformed Congregation in Debrecen and was also member of the New Liszt Ferenc Chamber Choir for 2 years.
In 2016, he was addmitted to the Conservatoire of Paris at the organ faculty, where he is under the guidance of professor Olivier Latry and Michel Bouvard now. During his studies in Paris, he gave concerts regulary in the Royal Chapel of Versaille, in the Church of Saint-Séverin and Saint-Jean Bosco and in the Cathédrale Notre-Dame de Paris. For 2017-2018, he was elected the principal intern of the Cathédrale Notre-Dame de Paris. He was awarded the Fisher Annie Musical Scholarship in 2018.
Besides organ he plays the piano. He has given regular solo and chamber concerts since 2008. In his concerts, he enjoys talking to the audience about the pieces performed. He is a determined interpreter of Hungarian and international contemporary music.