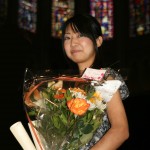 Yuka Ishimaru won the Grand prix and Dand & Polly Bales Prize at the 22nd International Organ Competition Grand prix de Chartres in 2010. From 2011, she started a concert tour in Europe and Japan and appears at various festivals and major venues. (Notre-Dame de Paris, Chartres, Bordeaux, Haarlem, St Albans, Finland, Denmark, Norway, Moscow etc…).
Yuka Ishimaru was born in Niigata, Japan. In 2003, she completed the organ training class at Ryutopia, Niigata-City Performing Arts Center. In 2007, she graduated from Tokyo University of Fine Arts and Music. She received the Ataka Prize when she was at the University. At the graduation of the University, she received Acanthus Music Award and DOSEIKAI Music Award. She studied the organ with Tsuguo Hirono,Rie Hiroe, and the harpsichord with Naoya Otsuka and Masaaki Suzuki.
In 2007, Yuka Ishimaru studied under Hatsumi Miura and completed Yokohama Minato Mirai Hall organist Internship Programm.
Under the scholarship from the government of Denmark, she continued her study from 2008 at the Royal Danish Academy of Music under Hans Fagius, and there she obtained the Organ Soloist Diploma. She won Scandinavia-Japan Sasakawa Foundation and Carl Nielsen Scholarship Foundation during the period.
She further studied the Clavichord under Joel Speerstra at University of Gothenburg and the organ under Ludger Lohmann at Staatliche Hochschule für Musik und Darstellende Kunst Stuttgart as a member of Japanese Government (Agency for Cultural Affairs) Overseas Study Program for Artists.
Her debut CD with German romantic organ works will be recorded in 2015 at the historic Buchholz organ of the St.Nicolas in Stralsund (Germany).
Yuka Ishimaru is currently a member of the Japan Association of Organists.