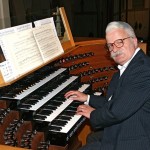 Wolfgang Rübsam was professor of Church Music and Organ at Northwestern University since 1974 upon winning the 1973 Grand Prix de Chartres, Interpretation, and University organist at Rockefeller Memorial Chapel (The University of Chicago), since 1987.
In October 1996 he accepted the professorship in Organ at the Hochschule des Saarlandes fur Musik und Theater in Saarbrücken (Germany), and additionally in 1999 the position of University Organist and Artist in Residence at Lawrence University, Appleton Wisconsin.
Wolfgang Rübsam is internationally known through his highly acclaimed recordings of organ repertoire from the baroque and romantic periods, on labels such as Philips, Deutsche Grammophon, Schwann, Harmonia Mundi, Bellaphon, Bayer Records and Naxos, comprising today nearly one hundred recordings. In recent years his Naxos recordings also presented works of Johann Sebastian Bach performed on the modern piano.
Wolfgang Rübsam is frequently scheduled for recitals and masterclasses in Europe and has served on the juries for the Grand Prix de Chartres (France), the Lahti International Organ Competition (Finland), and the Speyer International Organ Competition in Germany.