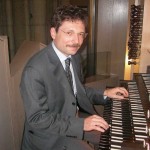 Tomasz Adam Nowak, first studied at the Frederic Chopin Academy of his Warsaw. He completed his studies there in 1987 with honors in the fields of organ and organ improvisation. He supplemented his training with Franz Lehrndorfer in Munich, Marie-Claire Alain in Paris and Ewald Kooiman in Amsterdam. He also studied church music at the Folkwang-Hochschule in Essen. He is laureate of many international organ competitions, including winning at the Haarlem Improvisation Competition.
Concerts, radio and audio recordings have taken Tomasz Adam Nowak to Europe and overseas. His artistic work is focused on the organ works of J. S. Bach (several recordings already and has begun recording a complete set), the works of Max Reger, the music of the organ movement and the avant-garde and the art of improvisation.
Tomasz Adam Nowak is Professor of artistic organ playing and improvisation at the Hochschule für Musik Detmold and 1st organist of the Stadt- und Marktkirche St. Lamberti in Münster. The direction of master-classes in Europe and the USA, acting as a juror at international competitions and co-operation with various symphony orchestras in Germany and abroad as well as the Artistic Director of the International Organ Festival in Westfalen-Lippe complements his artistic work.