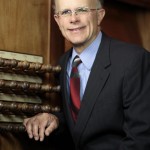 Todd Wilson is Director of Music and Organist of the Church of the Covenant (Presbyterian) in Cleveland, Ohio. where he heads a program of chairs as well as a concert series.
He is also Head of the Organ Department at The Cleveland Institute of Music and directs the Instituts University Code Chorale and Chamber Choir.
Todd Wilson received his Bachelor and Master of Music degrees from the College-Conservatory of Music at the University of Cincinnati, where he studied organ with Wayne Fischer. Further coaching in organ répertoire was with Russell Saunders at The Eastman School of Music.
He has won numerous competitions, including the Grand Prix de Chartres and the Fort Wayne Competition. An active member of the American Guild of Organiste, he holds the Fellow and Choirmaster certificates, and will be featured during the Centennal National Convention of the Guild in July, 1996.
Todd Wilson has been heard in concert in many major cities throughout the US and Europe, including concerts at Chicago s Orchestra Hall and Uihlein Hall in Milwaukee.
During 1992 he appeared as a solo recitalist for Austrian Radio in Vienna, as well as in concert with the Slovakian Radio Synphony. Recent orchestral appearances include performances with members of the Atlanta the Naples (FL) Philharmonie, the Calgary Philharmonic and the City of London Sinfonia
A sought-after adjudicator Todd Wilson has been a jury member for numerous national and international competitions.
An active interest in improvisation has led to his popular improvised accompaniments to classic silent films.
Todd Wison appears frequently with his wife, Anne, in duo-organ or organ/piano recitals