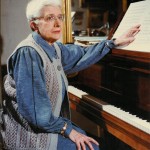 Rolande Falcinelli entered the Paris Conservatory in 1932, where her teachers were Isidor Philipp and Abel Estyle (piano), Marcel Samuel-Rousseau (harmony), Simone Plé Caussade (counterpoint), Henri Büsser (composition), and Marcel Dupré (organ and improvisation). In 1942, she received the second Grand Prix de Rome in composition. From 1946-1973, she was titular organist at Sacré-Cœur in Paris. Additionally, she taught organ at the American Conservatory in Fontainebleau from 1948-1955, and at the École Normale de Musique in Paris from 1948-1955.
In 1948, Rolande Falcinelli performed from memory the (then) complete organ works of Marcel Dupré at Salle Pleyel in Paris, whose music was in the center of her interests throughout her career as a performer and teacher. In 1955, she succeeded Marcel Dupré as professor of organ and improvisation at the Paris Conservatory, where she taught until 1987. Among her numerous students were many brilliant organists of our time, such as Odile Pierre, Pierre Gazin, Xavier Darasse, Louis Thiry, Yves Devernay, Francis Chapelet, André Isoir, Daniel Roth, Jean-Pierre Leguay, Louis Robillard, Philippe Lefebvre, Maurice Clerc, Patrice Caire, Marie-Bernadette Dufourcet, and Naji Hakim.
In addition to her numerous organ compositions, she wrote works for piano, harpsichord, solo instruments, orchestra, choir and songs. She also made numerous recordings, including several LPs with compositions of Marcel Dupré at the Auditorium Marcel Dupré in Meudon. Rolande Falcinelli died on June 11, 2006, at age 86, in Pau, France. From her first marriage with Felix Otto, an employee from Norddeutscher Rundfunk in Hamburg, Germany, she had a daughter, Sylviane (b. 1956), a French musicologist.