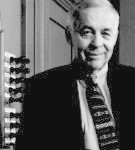 Robert Clark is widely known as an organ recitalist and teacher. Formerly Professor of Organ at the University of Michigan from 1964-1981, he directed the program of organ instruction at Arizona State University from 1981 until his retirement in 1998. In 1982 Clark served on the international jury for the Grand Prix de Chartres, an international competition for young organists. He has appeared as a concert organist in North America and Europe and is a frequent presenter at conferences and conventions. He is, with John David Peterson, co-editor of the highly acclaimed Concordia edition of the Bach's Orbelbüchlein.
His students have won or placed in major competitions including Fort Wayne, Flint, St. Alban's, and the American Guild of Organists. In 1990 he was a featured teacher at the National Pedagogy Conference of the American Guild of Organists in Worcester, Massachusetts. In 1992 Clark, in cooperation with Westfield Center for Early Keyboard Studies, was instrumental in directing a symposium, "The Historical Organ in America," at Arizona State University, which drew 350 organists, organbuilders and scholars from North America, Asia, and Europe.
Clark has recorded on the Gryphone and Calcante labels. Two of his recordings were nominated for "critic's choice" awards in 1999 in the American Record Guide. His recent recording, Bach at Naumberg was named an "editor's choice" in the British journal, Organists' Review, and was listed as one of the "best of 2002" in the Goldberg Early Music Magazine.