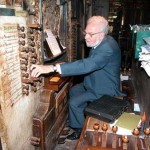 Born in Cordoba (Argentina) in 1930, he studied music – piano, harmony, counterpoint and composition – in his hometown, and is moving quickly towards sacred music. It is a colonial organ eighteenth century restored by him to give, in 1947, his first public concert, followed by other presentations in Argentina and Uruguay.
French government scholarship, he moved to Paris in 1952, where he studied under the guidance of two great masters of French organ school : André Marchal and Édouard Souberbielle. In the class of the latter, he obtained the Higher Diploma organ -interpretation improvisation- and the Higher Institute of the Catholic University of Paris. Meanwhile, he studied at the Institute of Musicology at the Sorbonne, and he graduated in 1956.
He is Kapellmeister and titular organist of the church of Saint Germain l'Auxerrois Paris since 1959, which marks the beginning of his career as a performer in many musical centers in France, Germany, Italy, Spain, Canada , USA, Thailand and Philippines.
However, the activities of Ricardo Miravet are not limited to the organist role as a musicologist, he continues his research on the Spanish masters of the sixteenth and seventeenth centuries – which it still devotes part of its programs – and continues writing a book on the history of the organ bill in Spain. Although particularly identifying with the golden century Spanish and French romantic and modern music, the repertoire of Ricardo Miravet includes authors from all periods of organ-literature for solo organ, as well as concertos for organ and orchestra.
In addition, he directs choirs and instrumental ensembles with which he deepened the directory of Spanish music of the Golden Age, and ancient and contemporary works from Latin America. His interpretations of the Misa Criolla by Ariel Ramirez, and first European hearing of the Mass in F Domenico Zipoli (written in Argentina to 1720) have been hailed by critics.
Shared between France and Spain, it is the artistic director since 1982 and the main organizer of the Festival Música de Morelia (Castellón), which takes place during the month of August and brings together the most diverse musical expressions.
Since 1979, he is regularly invited by the University of San Juan (Argentina), where he teaches advanced courses for talented young organists of the country.