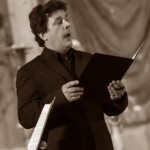 Born in Chartres, at the age of 8 Nicolas LHOSTE began singing in the choir of the Cathedral of Chartres and studying piano and clarinet at the Conservatory of Chartres. He continued his training in other choirs such as the Maîtrise of Hauts-de-Seine or the Opera Children's Choir of Paris and participating in major operas (La Bohème, Pagliacci, Othello, Turandot) and meeting figures of music (Jon Vickers, Luciano Pavarotti, Michel Plasson). He is formed for the song by Francis Bardot and Roger Thirot.
Past male voice he continues to sing in various formations (Choir of the French Army, Choir or French Opera), and creates in 1991 the Ensemble Fulbert (male choir specializing in early music).
Today he sings in sets variable workforce as "Christopher Simpson Consort" or "Musica Sacra" for the Baroque repertoire or "The Maurache" for the medieval repertoire. He is regularly hired as extra in the opera houses of France (Montpellier Opera, Opera de Strasbourg) and working with big names in music (F.-R. Duchable, R. Alagna, T. Koopman, J.-C. Casadessus, L. Foster, A. Altinoglu…).
Holder of the professional card cantor, in 2006 the Rector of the Cathedral of Chartres gave him the post of cantor and musical coordinator.
He regularly participates in official ceremonies and commemorative of the city of Chartres. Nicolas Lhoste was promoted Chevalier des Arts et Lettres in February 2015.