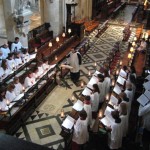 The Episcopal Church St. Michael in New York City has five choirs : The Angel Choir (the youngest set of training) ; The Saint Cecilia Choir (children of the Middle School) ; The High School Choir ; Professional Octet (a select group of highly qualified professional singers) ; and semi-professional adult choir St. Michael (adult mixed voice choir).
A rich tradition of choral music, covering over a millennium and multiple cultures is explored in St. Michael, including a wide variety of American music art forms. Choral music is heard every Sunday at Mass and Compline on Wednesday night.
Our concert tour has four of the five sets of St. Michael. They will perform together as a group and in individual sets. The message that we share on this tour is that of religious tolerance, peace and love for each other. The program will mainly before American composers.
The choir accompanied on the organ by John Edward Cantrell, choirmaster and organist at St. Michael's Episcopal Church. Student Thomas Murray, Jean Martin, Melvin Dickinson, he holds a Master of Music from Yale University, and has performed in the United States, England, Ireland, Holland, Germany, Sweden, and France, as a soloist, accompanist, conductor.
The choir is under the direction of Jonathan De Vries, who is the music director of the three youth choirs at St. Michael church.
In November 2014, Mr De Vries directed Mozart's Die Zauberflöte, incorporating students talented soloists, professional singers and a professional chamber orchestra drawn from the best musicians in New York.
He also directed The Little Prince (Rachel Portman), Alice in Wonderland (Robert Chauls), and Noye Fludde (Benjamin Britten). In 2013, he collaborated with the folk singer and composer Peter Galperin to record basic tracks for her single Travlin 'Home.
Sets of Mr. De Vries also occurred at Carnegie Hall, the Cathedral of St. John the Divine, to the church of the Heavenly Rest, on tour in Washington DC, at Christ Church Cathedral, Oxford – Great Britain.
Mr. De Vries is the conductor of the Canterbury Choral Society in New York.