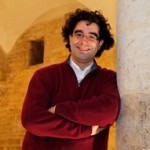 Thanks to Michel Garnier building the organ in Lens (Pas-de-Calais), Nicolas Bucher discovered his passion for the organ.
He began his studies at the Centre Diocésain de Musique Sacrée in Arras, then entered the Conservatoire Régional in Lille where he studied during four years, first with Jean Boyer, later with Aude Heurtematte. He continued his studies at the Conservatoire Royal in Brussels (Belgium) where he won the First Prize in Organ in 1997 (close directed by Jean Ferrard) as well as prizes in Composition and History of Music. Joining Jean Boyer in Lyon (Conservatoire National Supérieur de Musique), he obtained in June 2000 the National Diploma of Music Studies (DNESM).
In October 1998, he was one of the finalists in the competition 'Concours International Xavier Darasse' in Toulouse, its 7th edition being dedicated to Spanish Baroque music. In September 2000, he was awarded the Second Prize at the International Musashino competition in Tokyo (Japon).
After Lens and Lyon, Nicolas Bucher is presently the titular organist of St. Paul's in Marcq en Baroeul (North). He is teaching organ music at the local music school in Lens and at the Centre Diocésain de Musique Sacrée in Arras.