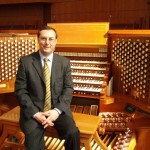 Massimo Nosetti, born in Alessandria (Italy) in 1960, studied organ, composition, choral music and direction, polyphonic composition at the National Conservatories of Turin and Milan. Afterwards, he studied organ with P. Pidoux and J. Langlais. Currently he is Professor of Organ and Composition at the National Conservatory in Cuneo and since 1981 has been titular organist at the Basilica of Santa Rita in Turin. Also from 1979 to 1994 he was Director of Music at the Turin Cathedral.
He frequently gives organ recitals, lectures and master class in all European countries, Russia, the USA, Canada, Mexico, South America, Japan, Korea, Hong Kong, Australia, New Zealand and has composed and published many works for organ, choir and orchestra. A collection of organ pieces "A Portrait of M. Nosetti" has recently been released by ANIMUS Music Publishing (G.B.) His "Ecce Lignum Crucis", an orchestral work commissioned for the exhibition of the Holy Shroud in 1998 and 2000, has been performed and recorded by the RAI- Italian Radio Symphonic Orchestra.
He also is interested in the aspects of organ-building and church music as a member of the Diocesan Commission of Sacred Music and as a consultant of the National Commission for Sacred Music. From 1999 to 2004 he was also Vice-President of the Italian Association of St. Cecilia and at present he is Dean of the organ department of this Association.
In 2005 he has been appointed titular Cathedral organist by the Archbishop of Turin.
Massimo Nosetti has made organ recordings for Radio Vaticana, RAI (Italy), ORF (Austria), RIAS (Germany), Radio Belgium, NHK (Japan) as well as 31 CDs for the labels of RUSTY RECORDS, BNL, SYRIUS, ECO, ELEGIA, CARRARA with repertoire mainly focused from 19th Century to the present days.
Massimo Nosetti died in November 2013.