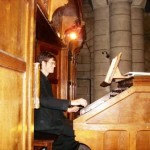 Since his arrivai in France in 2004, Mark Frederic Indorf has studied harmony and analysis with Dr. Naji Hakim at the Conservatoire National de Région de Boulogne-Billancourt and organ with Marie-Louis Langlais at the Conservatoire National de Région de Paris.
His Bachelor of Music was completed at Capital University in Columbus, Ohio, USA. During his studies, he served as organist at Christ Lutheran Church and was an active member in the American Guild of Organiste, where he achieved the title of Service Playing and Colleague.
In his home country as well as in France, Mark Frederic Indorf has given concerts as a soloist or together with his brother Ion Indorf, a trumpeter living in Ohio. Currently, he is appointed organist at the English parish of St. Joseph Wear the Arc de Triomphe in Paris, and also interim choirmaster of Voices Choeur International.
After obtaining a first prize in organ and in analysis, Mark-Frederic Indorf is continuing his professional development studying organ, counterpoint, and composition at the CNR in Paris.
At the Sorbonne, under the direction of Danielle Cohen-Levinas, he is also working on a Master 1 thesis about Olivier Messiaen.