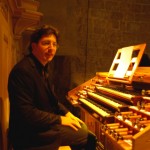 Marco CORTINOVIS was bom in 1983. He starts his musical training at the age of ten, playing the clarinet. Then he continues his studies at the National Conservatory "G. B. Martini" in Bologna, where he discovers the organ with his teacher Andrea MACINANTI. A. Macinanti will also guide Marco during his apprenticeship of Italian music composed for the organ, since its origins up to the 20th century, as well as in the performance of a repertoire which is often underestimated.
At Bologna Conservatory, Marco takes part in various classes : piano, harmony, music analysis, composition, orchestration, history of music and history of dramaturgic arts. He obtains several distinctions.
He is awarded the First Organ Prize at the National Conservatory "G. Frescobaldi" in Ferrara, for the first performance of a piece composed by Roberto Di CECCO. As a soloist , but also as an accompanist, he has taken part in several festivals in France and in Italy, amongst others the famous festival Organi Antichi in Bologna (Italy). He is giving concerts with the bassoonist Ugo GELMI, performing a repertoire of ancient music and contemporary works.
With the two soprano singers Hélène Richer and Yoko Takeuchi he is constituting the ensemble Voix Célestes, which was initially a research project created by the Royaumont Foundation, under the direction of Joël-Marie Faucquet, project dedicated to make the public discover French sacred music of the 19th century.
His interest in musicology pushed him to publish articles with the Bergamo Edizioni Musicali Carrares (Italy).