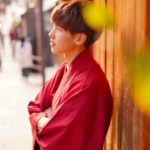 Luca AKAEDA SANTESSON is a young organist born in 2001 in Milan, Italy. Interested in music from a young age, he begins his musical apprenticeship in 2009 in the organ class of Jean-François Hatton at the Conservatoire Claude Debussy, Paris.
From 2013 to 2019, Luca continues his studies at the CRR of Lyon under Lionel Avot and Yves Lafargues and gets his musical degree in organ in 2018.
In 2019, aged 17, he is admitted at the CNSMD of Lyon at the bachelors degree in the organ class of François Espinasse and Liesbeth Schlumberger; he is studying there since.
Luca has been appointed organist at St. Denis church and St. Augustin church of Lyon in 2021.
In parallel, he has studied early music with harpsichord (with Noëlle Spieth, Catherine Latzarus, Yves Rechsteiner) and Clavichord (Illton Wjunisky) for over ten years.
Luca Akaeda Santesson has had the opportunity to play in various countries, notably in Japan, and to take part in masterclasses of organists from around the world such as Hans-Ola Ericsson, Kimberley Marshall or Peter van Dijk.