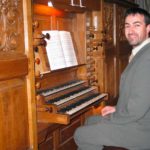 After studying the piano, Alain BRUNET discovered the organ during his adolescence in the Savoy region and took his first lessons in Annecy. He continued his training in Strasbourg with André STRICKER, taking part in master-classes.
From 1988, Alain Brunet devoted himself to the harpsichord, obtaining an Honorary Prize at the CNR of Versailles, as well as a First Prize in chamber music. He completes his training with a course of musicology at the Sorbonne, culminating in a master's degree. He continued to perfect his skills at the Conservatory of the 17th district of Paris and obtained a First Prize of the City of Paris in harpsichord and chamber music. In 1994 he obtained the State Diploma in Early Music.
His teaching activities took place initially in Dreux (harpsichord and organ classes) and since 1999 in Vernon, where he was titular of the Oury (1610) – Kern (1979) organ of the Collegiate Church between 1999 and 2007.
From 2004 to 2006 he was curator of the organ of Ivry la Bataille (27). He was a lecturer at the University of Rouen (UFR of musicology) for 2 years.
In 2014, Alain Brunet obtained the professional card of organist musician of the Paris Diocese; in 2017, he passed the Professional Examination of Professor of Artistic Teaching (organ). He is co-titular of the organ of the Saint-Eloi temple in Rouen since 2021 and participates the same year in the creation of the Bach Academy in Seine-Eure of which he is one of the 3 teachers.
He performs in concert on harpsichord and organ, as a soloist or as a continuo player for vocal and orchestral groups.