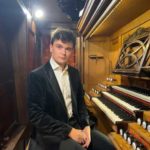 William Fielding will continue his studies with Oliver Latry and Thomas Ospital at the Conservatoire National Supérieur de Paris from September this year.
William spent three years at St Mary's Music School in Edinburgh, then two years with David Graham and Kathron Sturrock at the Royal College of Music (organ and piano), was organist at the Chapel Royal of the Queen of England, Hampton Court Palace, and worked extensively as a collaborative pianist – highlights with his colleagues including a two-piano concert tour to Marbella, Spain, with concert pianist Łukasz Krupinski, and a tour of the Czech Republic with violinist Joel Munday.
William decided in 2020 to immerse himself in the French organ tradition by moving to study with Michel Bouvard (titular organist of the St Sernin Basilica) in Toulouse, and then with Yoann Tardivel, at the Toulouse Conservatoire.
William has enjoyed the opportunities offered to him in Toulouse, in particular a close collaboration with Mark Opstad and the Maîtrise of the Toulouse conservatoire, with whom he has recorded a CD including Maurice Duruflé's requiem.
William is the choir organist at the Basilica of St Sernin, Toulouse.