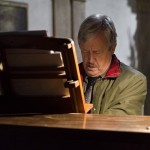 Born in 1944, the Polish organist Jozef Serafin graduated with honors at the Cracow Conservatory.
In 1970-72 he studied at the Academy of Music and Performing Art in Vienna with the Professer Anton Heiller, where he took his degree cum laude and received a special award.
He won first prizes at international organ music competitions in Warsaw (1967) and Nuremberg (1972).
Jozef SERAFIN has given concerts in almost all countries of Europe, and also in North America and Japon.
He made numerous recordings for radio and TV stations, as well as record companies.
He has been juror at many international organ competitions in Europe : Nuremberg, Prague, Brno, Gdansk, Manchester and Beauvais.
Currently he is professer at the Warsaw and Cracow Academies of Music.
Since 1979 Jozef Serafin is artistic director of International Organ and Chamber Music Festival to Kamien Pomorski.