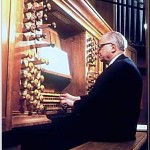 Born in Pont-Audemer (Eure) April 19, 1910, Jean Giroud was a student of Marcel Dupré (organ), Paul Dukas (composition), Alfred Cortot (piano) and André Pirro (musicology). Having the chance to live in Paris and very attracted by the liturgical role of the organ, it also benefited from the teaching of Joseph Bonnet and Charles Tournemire. Organist named to the metropolitan church of Saint Louis at Grenoble in May 1934 he was one of the prestigious representatives of this great generation of French organists born in the early decades of the twentieth century, for whom the relationship between art and music the liturgy was something fundamental. Extremely convinced and convincing about it, Giroud Jean presided over sacred music at this forum for over 60 years, tireless advocate of plainchant, quality polyphony, and the organ of which he was the one of the great fiery and inspired performers.
Familiar of Ravel who assured his friendship until his death, Stravinsky, Auric, Britten, Dallapicola and thinkers like Claudel, Guitton or Maritain, exceptional friendship of over 50 years between him and Olivier Messiaen, and with Gaston Litaize Pierre Cochereau and many other French and foreign personalities, many are died.
Eminent musicologist, he introduced the teaching of musicology at the University of Grenoble which was created thanks to his efforts, a diploma of Letters Arts, Music and Musicology section.
He directed the university choir Grenoble whose reputation became international. Quality earned him a contract to be associated with the record company Erato. In 1973 the choir was given the "International Grand Prix du Disque" for the interpretation of the vocal a cappella works by Francis Poulenc, under the direction of Jean Giroud.
He was a researcher, to whom we owe many musicology studies and a prolific composer whose musical works cover a wide register: organ, piano, orchestra, chamber music, film music, vocal polyphony. For example: his images for Way of the Cross on the text of Paul Claudel, and Toccata for the Elevation.
Jean Giroud was a figure of organist racy, uncompromising fighter mediocrity and conformism. His career as an organist and choir director took him all over Europe. But it was above all a musician whose key feature of the artistic life was his church musician activity.
Giroud Jean taught organ, the conservatories of Grenoble, Strasbourg, Chambery. He was also a lecturer at the conservatories of Nice and Annecy.
Knight of the Legion of Honour and the National Order of Merit, Officer of Academic Palms and a Commander in the Pontifical Order of St. Gregory the Great, John Giroud died January 31, 1997 in Grenoble.