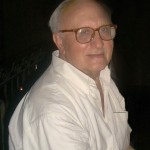 Jean Costa was a French organist born in Bastia June 15, 1924. Son and grandson son of organists attached to the organ loft of the Basilica of St. John the Baptist in Bastia, Jean Costa received his first musical training at his family. He continued his studies in 1943 in Lyon to Edouard Comet (organist primatiale Saint John and pioneer in the recording of organ music) where he became organist – Tour of Maîtrise.
In 1945, Jean Costa went to Paris to follow the courses of Maurice Duruflé and Marcel Dupré. It accesses the organ class of the latter at the Paris Conservatory to come out in 1949 crowned by a First Prize of Organ and Improvisation conjunction Renet Françoise Marie Madeleine Chevalier and Jean Bonfils. Having been an alternate for a while his master Marcel Dupré to great organ of Saint-Sulpice in Paris, Jean Costa was appointed in 1952 organist of the great Cavaillé-Coll organ in the Church of St. Vincent de Paul in Paris a position he held until 1997.
Teacher sought, Jean Costa was professor of organ at the Nantes Conservatory from 1953 to 1970 and was entrusted in 1971 the organ class of the Conservatoire Darius Milhaud in Aix-en-Provence where many students come out like Jean Lecaudey Pierre Gilles Harle or Chantal de Zeeuw who succeeded him to the post in 1992. Soloist internationally renowned guest of the major organ festivals, Jean Costa has given over a thousand recitals in France, in all countries Europe, the USSR and America, where he discusses the entire repertoire and improvisation, a discipline in which he excels.
Jean Costa performed a hundred recordings for television and French and foreign radio stations. At the head of a large discography we can cite his recordings of the great works of Johann Sebastian Bach, German old masters (Buxtehude, Bruhns, Muffat, Pachelbel, etc.) on historical instruments (Weingarten, Ottobeuren, Lüneburg,). Jean Costa also recorded the integrals of the Twelve pieces of César Franck, works by Johannes Brahms and those of Franz Liszt; This last issue in 1974 earning him the Grand Prix of the French Academy Drive and Prize of the Academy Franz Liszt in Budapest. Jean Costa took part in his last participation in the drive, the collective record "The organs of Paris" where he played two excerpts from the famous Gothic Suite Léon Boëllmann who was his predecessor in the gallery of St. Vincent de Paul from 1887 to 1897.
Died June 1, 2013 in Marseille in its 90th year.