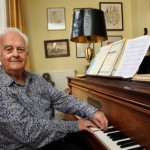 Jacques Charpentier was born October 18, 1933 in Paris.
Young, he began his own the study of music at the piano. From 1950 to 1953, he worked with Jeanine Rueff, pianist and composer who was French First Second Grand Prix de Rome in 1948 (it was such accompanist at the Conservatoire de Paris). He studied musical composition.
Then he went to India (Bombay, Calcutta), where for 18 months, he studied Indian music. Returning to France in 1954, he entered the Paris Conservatoire to study with Olivier Messiaen, the philosophy of music, and with Tony Aubin, composition.
In 1959, he entered the Jeunesses Musicales de France, and in 1966, the Minister André Malraux appointed him Chief Inspector of Music, and later, in 1975, he was appointed Inspector General of Music at the State Secretariat Culture. He was Director of Music and Lyric Art and Dance at the Ministry of Culture and Communication in 1979 to 81. He founded at Sénanque Abbey in Provence, in 1975, the Study Centre Gregorian and compared traditional music. He was the author of educational books on Gregorian Chant and Indian music.
He was appointed in 1974 Great Organ of the owner of the church of Saint Nicolas du Chardonnet (5th arrondissement of Paris). He is also a lecturer orchestration at the Paris Conservatoire. After 1981, he was Director of Music for the City of Nice. He will reside while in Carcassonne. He won in 1966 the Koussevitsky Awards and in 1978, the Grand Music Prize of the City of Paris. Jacques Charpentier was made a Commander of the National Order of Merit in 2006. The organist Marie-Agnes Grall-Menet succeeded J. Charpentier in the Greater forum Organ of St. Nicolas du Chardonnet in 1989.
Main works of Jacques Charpentier: Karnatic Studies for Piano (1957-1984) [72 studies Karnatic modes of traditional Indian music]; Mass for all time for organ (1974); Organ Book (1973); Study No. 1 (Guitar, 1974); Prelude (keyboard, 1975); For a carillon (1980); Sketch (flute and piano, 1972); For an apsara (2 harps, 1970); Sinfonia Sacra for Easter Day (orchestra, 1965); Short Symphony (1958); Symphony No. 3 Shiva Nataraja (1969); Brasil Symphony No. 4 in honor of Villa-Lobos (1973); Symphony No. 5 (1978); Eightfold Concerto 8 Instr. wind and orchestra (1968); Trumpet Concerto (1976). Vocal music of J. Charpentier includes various works, including The pastouriaux Crusade (1963 oratorio for choir and percussion); Stained glass windows for Notre Dame (1975 high voice and strings); Genesis (1973 oratorio for soloists, chorus and orchestra); Beatrix Planissolas (1971, opera, in the Occitan language, created at the Aix-en-Provence Festival in 1971). His Organ Book is a command for Contemporary Music Days Metz, 1973.
Member of the Jury Grand Prix de Chartres 1992