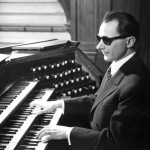 Litaize was born in Ménil-sur-Belvitte, Vosges, in northeast France. An illness caused him to lose his sight just after birth. He entered the Institute for the Blind at a young age, studying with Charles Magin, who encouraged him to move to Paris and study with Magin and Adolphe Marty at the Institut National des Jeunes Aveugles, which he did from 1926 to 1931. Concurrently, he entered the Paris Conservatoire in October 1927, studying with Marcel Dupré and Henri Büsser, as well as privately with Louis Vierne. Over the course of six years, he won first prizes in organ, improvisation, fugue, and composition, as well as the Prix Rossini for his cantata Fra Angelico. In 1938 he finished second to Henri Dutilleux in the Prix de Rome, said to be the first time that a blind person was accepted in the competition ; subsequently he asked Dutilleux many times to compose for the organ, but nothing came of it.
He began working as organist at Saint-Cloud in 1934, and after leaving the Paris Conservatoire in 1939 he returned to the Institut National des Jeunes Aveugles to teach harmony. In 1944 he began a thirty-year directorship of religious radio programs, where he oversaw five weekly broadcasts. He took up a position in 1946 at St François-Xavier, Paris, where he remained the organist until his death. In 1975 he retired from the radio and began teaching organ at St Maur-des-Fossés Conservatoire, where he "gained numerous disciples." He died in 1991 in Fays, Vosges.
As a performer, Litaize toured France, western Europe, the USA, and Canada. His first American tour was in the autumn of 1957. His recording of the Messe pour les paroisses by François Couperin on the organ at Saint-Merri earned highly positive reviews, called "admirably recorded" in The Musical Times and a "fine, sensitive performance" in Music and Letters. Unusually, he elected not to use notes inégales in the performance, although he was very interested in researching "old" music. His improvisations were called "shattering displays" and compared favorably to Dupré, Demessieux, Cochereau, and Heiller.
Litaize was highly influential on generations of French organists. He inspired Olivier Latry to choose his career : "at 16 I won piano first prize… and I thought I might continue piano studies at the Paris Conservatoire… However, I decided to play the organ, choosing Gaston Litaize at the CNR de St-Maur-des-Fossés as my teacher as I had heard him give a very exciting recital at the Cathedral of Boulogne-sur-Mer. It was this that confirmed my desire to play the organ".