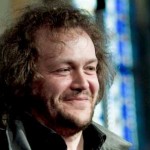 Born in a family of musicians, Frédéric DESENCLOS studied the organ with Gaston Litaize and André Isoir at the Conservatoire National Supérieur de Musique de Paris where he graduated in organ, 'écriture', music history, harpsichord and chamber music.
Laureate of the European Organ Competition in Bolton, Great Britain in 1992 as well as the Internationel Orgel Konkurrence in Odense, Denmark in 1994, Frédéric Desenclos is now organist at the Chapelle Royale de Versailles and teaches at the Orléans conservatoire outside Paris.
A major part of his discographic activity is devoted to baroque repertoire. He has worked for different records companies, such as Alpha, Triton, Auvidis, Hortus, Emi-Virgin Classics, Tempéraments Radio-France.

Thanks to his keen interest for the continuo practice and his knowledge of French music, Frédéric has been appointed as the organist/continuist at the Centre de Musique Baroque de Versailles.
His solo activity extends worlwide: Amsterdam, Barcelone, Denver, Gent, Haarlem, La Roque d'Anthéron, Lisbonne, Londres, Maastricht, Nantes, Poitiers, Saintes, St-Michel-en-Thiérache, Stockholm, Toulouse, Versailles, York, Zaragoza…
He has recorded works by diverse composers such as Bach, Couperin, Dandrieu, Alfred Desenclos, Henry Desmarest, César Franck for different labels including Alpha, Triton, Solstice and Astrée  and, for EMI Virgin Classics, made two CDs with solo organ pieces by Louis Marchand, Pierre Tabart, André Raison and Nicolas de Grigny.

In 1999, the Ensemble Pierre Robert was founded by Frédéric Desenclos to provide for the performance of the French petit motet.